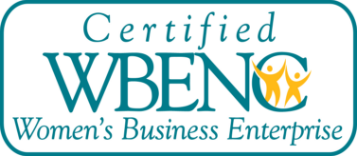 WBE stands for Women's Business Enterprise. WBE-certified businesses are at least 51% owned and controlled by one or more women. It also means the management and daily operation is controlled by a woman with industry expertise. In our case, that would be Veronica Davis, the CEO and President of JHC.
While we are proud to be a woman-owned company, our WBE certification also benefits businesses that partner with James Hunt Construction.
Tax

I

ncentives.

The federal government offers tax incentives to companies that conduct business with women- and minority-owned businesses. Not only that, your tax liability goes down for projects funded with federal or state grants or loans when the supplier is a women-owned business. Sometimes tax incentives are also provided on the state level if you work with a WBE contractor.
You Showcase Y
our

Company's Commitment to Diversity.

When you hire a woman-owned business, you are demonstrating that your company is committed to working with diverse partners. This can also make you more desirable to work with or for, other companies who also want to work with more women-owned businesses.  In the construction industry, the number of women-owned businesses and women in executive management positions are growing in what was largely a male-dominated industry not so long ago.
You Could B
oost

Y

our

Company's Bottom Line.

According to research by consulting firm the Hackett Group, companies who embrace diversity tend to be more profitable—increasing profitability by as much as 130% compared to companies that don't seek out diversity in their business partners. This is because diverse teams are shown to function more effectively than homogenous teams. The more diversity a company has in terms of background and expertise, the more creative they tend to be when it comes to solving problems and creating solutions.
It Can Help You Meet a Mandate.
A growing number of corporations and many local, state and federal projects are requiring companies they do business with to allocate a certain percentage of their business dealings to WBE-certified companies. If you choose a company like James Hunt Construction, it could help your firm meet this goal.
You Will Be Supporting a Small Business and Y
our

Community.

The majority of WBE-certified companies are also small businesses, like James Hunt Construction. When you choose to work with a locally-owned business, you are not only supporting that company, you are supporting your local community, since the money you invest will be spent locally.